Sheikh Hasina's 75th birth anniv celebrated thru cultural events
Sheikh Hasina's 75th birth anniv celebrated thru cultural events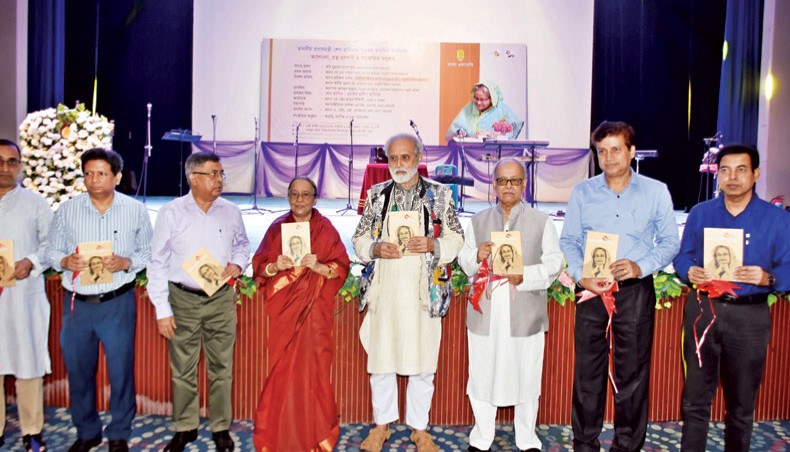 Dignitaries hold copies of the book titled Sheikh Hasina: Praner Pradip Jaliye at a book launch held at the Abdul Karim Sahityabisharad Auditorium of Bangla Academy marking 75th birth anniversary of prime minister Sheikh Hasina on Wednesday. — Press release
Bangla Academy and Bangladesh Shilpakala Academy celebrated the 75th birth anniversary of prime minister Sheikh Hasina organising various programmes on Wednesday.
Bangla Academy organised a book launch, a discussion and a cultural programme at the Abdul Karim Sahityabisharad Auditorium on its premises in the morning.
Director general of the academy poet Nurul Huda delivered the welcome speech while former chairman of University Grants Commission Abdul Mannan read an essay.
Abdul Mannan said, 'Sheikh Hasina is equally important for her political party and for the people of Bangladesh. Her father Sheikh Mujibur Rahman led the country towards our independence while she has been developing the country and realising the spirit of our independence.'
Dignitaries launched a book published by Bangla Academy titled Sheikh Hasina: Praner Pradip Jaliye at the event.
Bangladesh Shilpakala Academy organised a two-day art camp on Tuesday and Wednesday where 75 young artists created portraits of the prime minister.
An art exhibition displaying the portraits and other paintings created on Sheikh Hasina was inaugurated at the National Art Gallery's Gallery I on Wednesday evening. The exhibition will continue till October 4.
A discussion and cultural event was held at the National Theatre Hall.